Keychain

Keychain
Stainless steel engraving plates with bowl ring
Novelty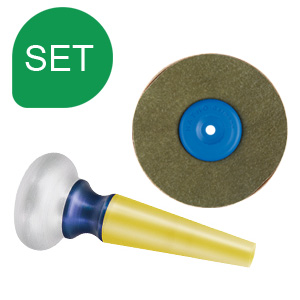 Never again hot fingers ...
Polishing holder for rings.
Practical polishing holder for effortless polishing, matting and grinding of rings. The special rubber cone ensures that the rings stick to the polishing holder and remain in position. Boley no. 506890
Features:
• Non-slip and washable rubber cone.
• Multi-part holder with aluminium handle
• No heat transfer when working on the rings
• Compact design
• Cone: Ø 12 - 25 mm
• Total length: 120 mm
Silicone-coated cotton buff - soft - COSIMA
Polishing wheels unstitched made of soft silicone-coated cotton and plastic core. Extremely long service life. Suitable for high gloss polishing of all precious metals.
• Extremely long life
• Approx. 50% less polishing paste
• No fluff
• High surface compaction
• Dimensions (Ø x H): 100 x 20 mm
---
Order this polishing holder today only on 12/12/2022 and receive a high quality Cosima polishing buff 507048 for free. Only while stocks last.
---