Keychain

Keychain
Stainless steel engraving plates with bowl ring
screwdriver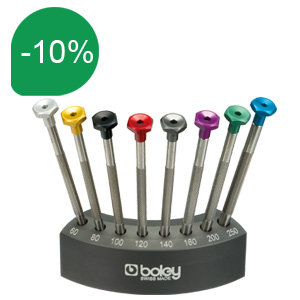 Screwdriver on stand - Ergonomic.
Precision Swiss quality screwdriver in stainless steel with ball bearing mounted rotary head. Assortment of 8 screwdrivers on a semi-circular anodised aluminium stand. Swiss-Made.
Features:
• Ergonomic design.
• Large rotary head, ball bearing mounted
• Anodised aluminium turning head in different colours
• Non-slip and easy-grip stainless steel handle
• Interchangeable screwdriver blades
• Swiss-Made
Composition:
• Screwdriver 0.60mm Silver
• Screwdriver 0.80mm Yellow
• Screwdriver 1.00mm Black
• Screwdriver 1.20mm Red
• Screwdriver 1.40mm Grey
• Screwdriver 1.60mm Purple
• Screwdriver 2.00mm Green
• Screwdriver 2.50mm Blue
• Half Round Aluminium Stand
• Spare blades are not included!
---
Order the Screwdriver with Stand today only 12/13/2022 and receive 10% off. Only while stocks last.
---