Keychain

Keychain
Stainless steel engraving plates with bowl ring
Lindström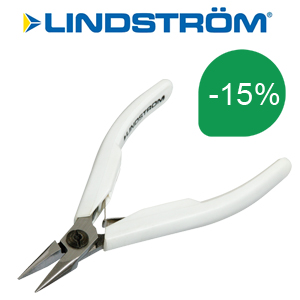 The specialists' choice…
Special offer on Lindström pliers.
The Supreme series features a precision screw and nut in an advanced overlap design. The joint and play in the joint is reduced to a minimum so that the jaws are precisely aligned, even at the tips. The Supreme series is preferred by goldsmiths and watchmakers as hard to reach areas can be machined.
Proven performance for the traditional user. The Lindström 80 series remains the first choice for the traditional user. These cutters offer unsurpassed cutting capacity and cover a wide range of wire sizes and types.
Receive a 15% discount on all Lindström cutters you order today only 12/21/2022.
To do so, click item 399821 into your shopping cart along with the pliers you want, or use code "LIND2022" when submitting your cart.
---
Promotion period 21.12.20222, only for pliers available from stock and while stocks last.
---