Petitpierre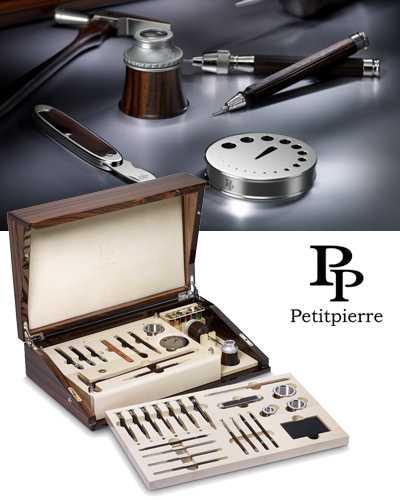 A special kind of toolbox!
Watchmakers' tool kits « Tradition »??
The collectors' dream gift

Fans of watchmaking, its history and the high-precision know-how that surrounds it, many personalities have already fallen under the spell of this watchmaking box.

It has already been ordered in a non-leather version by the Dalai Lama himself. Or, more recently, by Sir Jony Ive, former vice-president and designer of Apple products, for his personal use and a second copy for a famous friend... A formidable paradox for this man who designed the Apple Watch but who remains deep down a fan of mechanical watchmaking.

40 tools in a magical case!

When Petitpierre designed this unique box of watchmaking tools, in the Tradition or Passion versions, it did not necessarily have this starry destiny in mind. We wanted to revive the profession of the Belfry clockmaker who, facing winds and storms, tirelessly maintained the clocks in bell towers around the world...

We wanted to perpetuate this exceptional know-how by concentrating our long experience in the development and manufacture of watchmaking tools and our passion for this legendary profession in this magical case.

This aesthetic and functional box is intended for all those who share this passion, for collectors, for the passionate watchmaker or the master watchmaker. In the Coffret Tradition, 40 extremely precise tools are delicately housed in a high-end case. More accessible, the Coffret Passion jealously houses 13 tools in the pure tradition of the great master watchmakers.

An already incredible destiny!

These tools have been made from very noble materials, such as Macassar ebony for the handles (as well as the case) and stainless steel or hardened stainless steel for tools that are subject to particular constraints.

Each tool can be used on a daily basis thanks to a layout carefully thought out by watchmakers, who are used to their use.

To take this exclusive design approach to its logical conclusion, we have produced a case that will allow you to transport your cases and your precious tools without risk.

Boris Petitpierre can testify to this: I still can't believe it... the destiny of this case is incredible. In 2013, it was on the stage as lot N°15 of a charity event in New-York in front of the red piano on which Elton John was playing... This Coffret Tradition was there, in the heart of the world's jet-set, surrounded by stars including the famous Bono. What followed confirmed the extraordinary destiny of this rare object, which always lights up the eyes of great watch lovers!